Cracked Lips Can Come from Licking Your Lips Too Often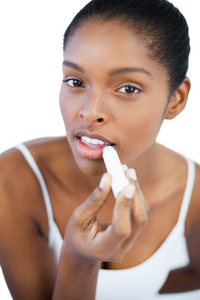 If you have cracked or chapped lips, you may decide to grab something to put on them. It can fix the problem temporarily, but it does not always solve the problem. The cracked lips may return, and you have to repeat the process.

The only way to stop this circle is to solve the reason behind the cracked lips. For some that problem is that they lick their lips constantly. Many may not connect these things because they don't understand what happens when they lick their lips.


The Causes of Cracked Lips
Before you start licking your lips to help soothe them when they become cracked, it is better to learn why the lips became cracked. One of the most common causes for cracked lips is the weather. Dryer weather can lead to dry and cracked lips. There are also certain medications that can cause your lips to dry out. Some of the medications that lead to dry lips include vitamin A, chemotherapy drugs, lithium and retinoids.

Licking your lips can either make the problem worse or can be a part of the problem. The saliva on your tongue can take the moisture away from your lips instead of adding moisture to dry lips. The more you lick the lips, the drier they get and the more they crack and cause discomfort.



What to Do Instead

There are many reasons that you may turn to licking your dry lips is because it is the easiest thing to do. Your tongue is always handy and ready to lick. Instead of turning to something that makes your dry, cracked lips worse, consider turning to solutions that will help solve the problem.

A humidifier in the home can help when the weather is drier. You can also drink more water to keep your lips moist. A lip balm is something that you can carry with you to help keep your lips moist. It is best to use a combination of these techniques to prevent any problems.

For more information about this or any other oral health issues, contact our office to schedule an appointment.