The Fascinating Technology Behind Cone Beam Image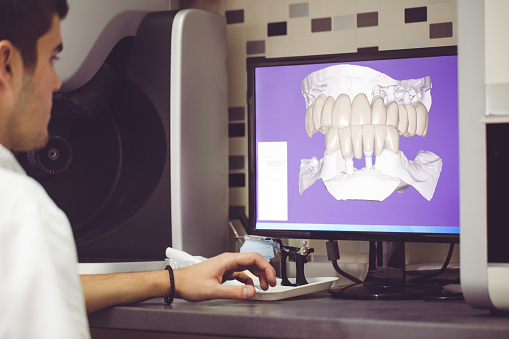 Cone beam computed tomography (CBCT) or digital volumetric tomography, is an imaging technique used to achieve three-dimensional scans of the teeth, soft tissues, nerve trajectory, paranasal sinuses and the maxillofacial skeleton in a single shot. Created in the 90s, it is a technology that offers an alternative when the use of X-rays or conventional tomography is not enough for a proper diagnosis.


Imaging Technique

Both conventional tomography and CBCT generate images in parts or high-quality cuts, however CBCT uses an innovative form of image acquisition, the conical x-ray beam, so it obtains the image as a volume, facilitating our diagnosis. It clearly records structures located within a delimited plane (the cone), making it easy to view an image with minimal or no overlap.

CBCT equipment are square machines that have a movable chair or table, their explorer is a C-shaped arm, which is responsible for emitting the fan-shaped beam. This arm makes 360º turns, and only requires one turn around the area of interest to obtain the necessary information, it takes around 150 or 200 two-dimensional images that are digitally combined to form the three-dimensional image, so they emit less radiation than the conventional tomography.


Cone Beam Clinical Applications

It has multiple uses in different branches of dentistry, including implantology, to determine if a bone graft or maxillary sinus lift is necessary; in endodontics, it allows to accurately identify the number and shape of root canals. It also has diagnostic precision in periapical pathologies, external tooth resorption, analysis of traumatized teeth with possible root fractures, management and treatment of patients with retained teeth, among others.

For better care, our team is at the forefront of the different diagnostic tools. Come to our offices to meet our dentists, and we can create together the perfect plan for you. Reach out now!